Email Marketing Company Serving Phoenix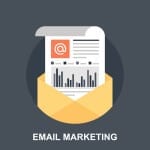 One of our favorite tools to use for our client's success is email marketing. It is a fantastic method for communicating offers directly to customers and provides immediate reporting plus low cost delivery. Email marketing can be used to drive sales, increase website traffic and maintain brand awareness. By integrating data to Google Analytics we will be able to fully track the traffic reaching your website.
Atlas creates branded messages that have the same look and feel as your website. We have massive flexibility in design and will make sure that your email marketing messages look great on mobile devices. Managing your contacts is a snap with modern tools and making sure that the CAN-SPAM Act of 2003 is adhered to is a must. Contact us today and let's look at how we can use email marketing to grow your business!
42% of businesses say email is one of their most effective lead generation channels – Circle Research (2012)
66% of consumers have made a purchase online as a direct result of an email marketing message - Direct Marketing Association (2013)
72% of consumers say that email is their favored conduit of communication with companies they do business with - MarketingSherpa (2015)