SEO Service For A Structural Engineer in Jackson, MS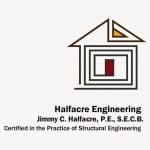 Working on local SEO for a structural engineer is an interesting project. We took on Halfacre Engineering as a customer and we've made good progress in a short time. When we started with Halfacre, they had an old website that wasn't keyword rich. We decided to replace it with a quality WordPress site, filled with great keywords as well as covering all the other aspects of local SEO.
We identified useful keywords such as structural engineer and structural engineering. Instead of just having a plain "services" page, we now have a specific pages for both structural engineer and commercial inspection. These pages are filled with targeted keywords that will increase their rankings within Google. In addition, we built pages for home inspector and engineering consultant. By employing these techniques we end up with a great website that's useful to human users and to Google.
It's important to have a keyword rich site for local search rankings. Google can only know what your business does if you tell them. When a potential customer searches for a structural engineer, we're here to make sure they find Halfacre Engineering.
If you'd like to contact Halfacre Engineering, you can reach them here.
Halfacre Engineering
Jackson, MS 39211
(601) 982-9500
http://www.halfacreengineering.com/